Euro 2012 winner betting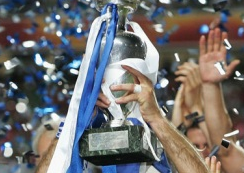 Euro 2012 winner is a very popular betting market. Like in every other big football tournament, this betting market is expected to attract a large number of bets from punters. Some punters just back their country to lift the trophy but there are many that back a few Euro Each Way Winners. The odds in the European Championships for the betting market Euro Winner are usually quite high and someone can win some money on an each way bet even if the team he backed doesn't lift the trophy. The value of the big odds is the main reason why a lot of punters will have a Euro 2012 Winner each way.

Euro 2012 Winner Each Way bet and how does it work
Betting on Euro 2012 Winner Each Way
Most Euro 2012 bookmakers will offer Euro 2012 Winner market Each Way, paying 2 places at ½ of the odds. On an each way bet, your bet is actually divided into 2 parts. The win part and the place part.

By betting each way on the Euro 2012 winner you are backing the team to win with one part of your bet and the team to reach the final with the other part of your bet. You have actually 2 bets that you have to pay for, so if you want to stake 20£/€ each way, then this bet will cost you 40£/€. If the team you back is the Euro 2012 winner you will get paid for both parts of the bet. This means 20 X full odds ( win ) + 20 X 1/2 of the odds ( place) . If the team you back reaches the final but doesn't win the Euro 2012 then you lose the win part of your bet and you win just on the place part (20 X 1/2 of the odds).
Euro 2012 Winner Each Way example
For example: Someone has backed England at 9/1 ( 10.00 in decimal odds) £10 each way with ½ of the odds for 2 places as I stands at the moment in most online bookies. This means that the bet costs £20 in total. If England wins Euro 2012 then the returns are 9/1 X £10 ( win part of the bet ) + 9/1 X ½ X £10 = £150. If England reaches the final of the Euro 2012 but doesn't win then your returns will be just the place part of the bet 9/1 X ½ X £10 = £50

Check now the latest EURO 2012 Winner prices at William Hill

Euro 2012 Winner

There are 2 teams that are big favorites according to bookmakers to win this European Championships tournament. Spain and Germany are on top of the bookies list with odds offered for those teams been very close. Most bookies odds for Spain are 5/2 ( 3.5 ) and for Germany the average odds that someone can find online is 3/1 (4.0) . The 3rd favorite for winning this EURO is Netherlands with average odds of 7/1 (8.0) while England to win Euro 2012 can be found at odds of 10/1 (11.00)

Check the latest EURO 2012 Winner Odds and get top prices at William Hill

Go back to Euro 2012 Betting Markets