UK Bookmakers vs US Sportsbooks
UK Bookmakers vs US Sportsbooks. Which is better for Canadians?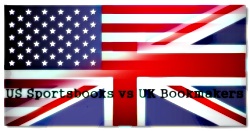 There is a lot of discussion about which sportsbooks or bookmakers are better for Canadians. In the past, most Canadians would bet online with a US sportsbook. But in the last few years UK bookmakers are as competitive and offer great markets and services for Canadians.
What are differences between a UK and a US Sportsbook
The first basic difference between a UK Sportsbook and a US Sportsbook is the way they are called! In the US, online websites that accept wagers are known as sportsbooks when in UK they are usually called bookmakers or bookies.

Another main difference is the odds display which is American for US sportsbooks and Fractional or Decimal for UK bookmakers. This is not such a big problem though, as all online sportsbooks give punters the option to change the way the betting odds are displayed. one of the differences between US sportsbooks and UK online bookmakers that punter don't get the option to change it of the want are the betting terms. For example online US sportsbooks will refer to a bet that involves multiple teams as parley where UK bookmakers as accumulator.
Are there UK sportsbooks adapted for Canadians?
Online gambling is very competitive and online UK bookmakers know that for sure. There are some online sportsbooks that have adapted their websites, offers even deposit methods in order to serve Canadian customers. So Canadian bettors have the chance to bet with some UK bookmakers without worrying about betting terms, odd formats and betting markets. Some UK bookmakers have made the life easier for Canadians and became UK sportsbooks...

Check out our list with the Best Online Sportsbooks for Canadians to find out which UK bookmakers are available for you!