Andy Murray to win Wimbledon 2012
Another Grand Slam for Murray and as expected, there again a debate if Andy Murray can win this years Wimbledon tournament. Compared to last years tournament, Wimbledon 2012 looks seems to be more competitive though and Murray will have to put on much more effort in order to achieve his aim and win his first Grand Slam ever.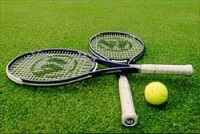 On this page we are going to follow
Andy Murray betting
to win Wimbledon 2012 all the way from Day 1 with Murray odds to win Wimbledon, Murray news, Murray fixtures, Murray results and in anything else that has to do with Andy Murray betting and Wimbledon 2012.
Andy Murray betting
For bookmakers
Andy Murray to win Wimbledon 2012
is not so likely according to the odds they are offering for him. The bookies favorites to win Wimbledon 2012 are Djokivic, Federer and Nadal. But there are so many examples where bookies got it wrong… The
odds for Murray to win Wimbledon 2012
are 10/1 at the start of the tournament. That is higher than last year where Murray was 4th favorite to win the Grand Sam at 6/1.
If you believe that it's Murray's time for his first Grand Slam at Wimbledon 2012 then you best grab that
10/1 at William Hill
… Bookmakers will drop the price even more after the first 3 rounds and if Murray reaches the semi final then hat price will go even lower. We will be keeping you updated with all the latest Andy Murray betting and the odds that are offered for him to win Wimbledon.
* Odds on the above section of the page are before Wimbledon tournament 2012
Special Betting Markets for Andy Murray at Wimbledon
There is so much interest for Andy Murray betting from bookmakers that there are a number of special Murray markets offered at Wimbledon for him before the start of the tennis tournament like:
When Will Andy Murray Win His First Grand Slam


Andy Murray To Win Wimbledon Without Dropping A Set


Andy Murray Grand Slam Wins 2012


Andy Murray stage of elimination from 2012 Wimbledon
Bet on Murray to Win Wimbledon! Odds are 10/1 at William Hill -
Bet Now
Andy Murray latest
Below you will find all the latest from Andy Murray at Wimbledon. News, Fixtures, Game Previews, Outright Odds Updates, Results and anything else that includes Murray and Wimbledon 2012
Andy Murray potential opponents
R1: Davydenko
R2: Karlovic
R3: Baghdatis
R4: Cilic
QF: Ferrer
SF: Tsonga
F: Federer
Andy Murray Results Wimbledon 2012
Murray - Davydenko 3-0 (6-1 6-1 6-4)
Murray - Karlovic 3-1 (7-5 6-7 6-2 7-6)
Murray- Bagdhdatis 3-1 (7-5 3-6 7-5 6-1)
Murray- Cilic 3-0 (7-5 6-2 6-3)
Murray - Ferrer 3-1 (6-7 7-6 6-4 7-6)
Murray - Tsonga 3-1 (6-3 6-4 3-6 7-5)
Andy Murray to win Wimbledon Odds update
Before the start of the tournament : 10/1
Round 1: 10/1
Round 2: 6/1
Round 3: 5/1
Round 4: 5/1
Semi Final: 9/2
Final : 13/8
BET NOW
.